Turn To Stone: ELO Tribute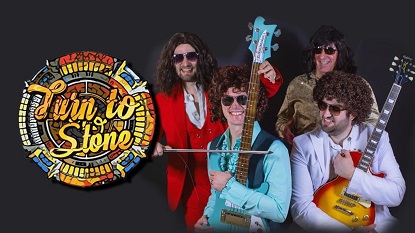 Turn To Stone, America's authentic '70s Electric Light Orchestra tribute band, was created to preserve the legacy and music of the band for all generations of fans. Turn To Stone strives to capture the essence of a live retro performance, with the high quality production and orchestration standards of the modern day. Turn To Stone tours with the same instrumentation as 1970's ELO; consisting of a guitarist, keyboardist, bassist, drummer, violinist, and two cellists. A coordinated light show, authentic costumes, and a live string section help deliver an unforgettable performance that brings the early years of ELO back to life.

Electric Light Orchestra was formed in 1970 in Birmingham, England, to create modern rock songs with classical overtones. After a founding member departed the group in 1972, Jeff Lynne became the sole leader of the band; producing and arranging all of their music. Him, along with keyboardist Richard Tandy, bass player Kelly Groucutt, and drummer Bev Bevan would go on to create the magic that ELO is recognized for around the world.

Handicap accessible seating is limited. For wheelchair seating accommodations please call the box office at 270-234-8258 before purchasing tickets.

All ticket sales are final. No refunds or exchanges.