Glen Leonard's Temptations Revue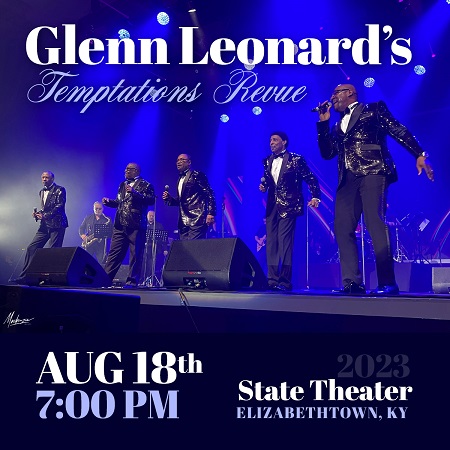 Glenn Leonard, who was the lead tenor of the Temps from 1975-83, recorded on 10 albums with the group, appeared on numerous TV specials world-wide, and circled the globe many times over, is paying the ultimate tribute to those he sang with, and learned from, with the internationally famous version of the classic Tempts version of "Silent Night" and also was with the Temptations Reunion tour / album that also featured Dennis Edwards, Richard Street, and original members Otis Williams, Melvin Franklin, Eddie Kendricks, and David Ruffin.

Glenn, and his all-star cast, tour the world in tribute to the original members, their own careers, and are hotter than ever!! His high tenor voice has been loved by millions world-wide, and Celebrity Direct is proud to be able to present them to you today. Their show is full of high energy and choreography, and they perform all the hits like only Glenn Leonard can!

Get Ready, 'Cause Here They Come!

Handicap accessible seating is limited. For wheelchair seating accommodations please call the box office at 270-234-8258 before purchasing tickets.

All ticket sales are final. No refunds or exchanges. Ticket insurance is available for purchase at time of checkout.