An Evening with Cody Ray Slaughter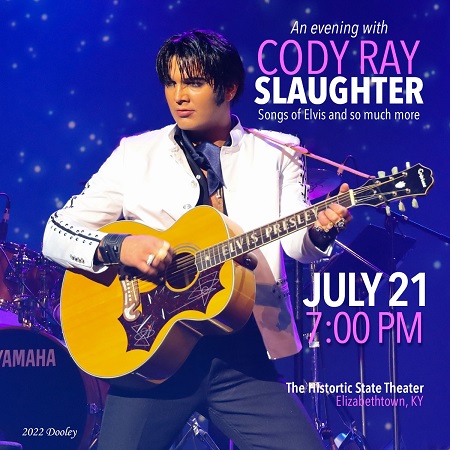 CODY RAY SLAUGHTER
Actor, Singer and ZRecording Artist
Elvis Presley Enterprises' youngest ever "Ultimate Elvis Tribute Artist"

Cody Slaughter has been tagged as one of the most talented young Actors, Singers and Recording Artists in the country. Born and raised in Harrison, Arkansas, gateway to the beautiful Ozark Mountains, Cody began entertaining at the young age of 13. Being a true Southern boy, his passion for Elvis' music and his uncanny resemblance to the King of Rock N roll, has directed his career path.



Cody has performed throughout the USA, across Canada, the UK and even Australia. At a very young age he performed in many theaters in Branson, MO. He was the featured entertainer in Pigeon Forge, TN for over a year at the young age of 17. At that same time Cody also appeared on MTV's "My Super Sweet 16". His uncanny portrayal of Elvis Presley exhibits his amazing love for who he calls, "the greatest entertainer of all time".



Among some of Cody's most exciting accolades were winning The People's Choice Award during every Elvis Tribute Week. Cody received The Horizon Award for best new Elvis Tribute Artist at the Las Vegas Elvis Fest. The award was given to him on the same stage where Elvis made history at the Las Vegas Hilton.



Representing Tupelo, Mississippi (Home of Elvis' Birthplace) Cody was the youngest man ever to be named the 'Ultimate Elvis Tribute Artist' by Elvis Presley Enterprises' in Memphis TN during Elvis Tribute Week.



Cody then took on an acting role he was born to play. That of a young Elvis Presley in the National Tour of the Tony award winning hit theatrical production 'Million Dollar Quartet'. Cody was nominated as Best Actor in a touring musical for his role. This led Cody to pursue and continue a successful career in acting.



Cody continued to star in many other productions, such as the annual Elvis Birthday Tribute Tour honoring Elvis' Birthday throughout the month each January. He also starred in the productions 'Elvis 56', Memphis Legends and Legends in Concert. Cody appeared as the featured musical guest on the Late Show with David Letterman on CBS television at the Ed Sullivan Theater in New York in front of 5 million TV viewers. Cody was the same age Elvis was when Elvis himself appeared on the very same stage on the Ed Sullivan Show. This August, Cody will again star in his own original musical about the life of Elvis entitled 'This Man from Memphis' that he has written and is directing himself. Cody will again present the show, by popular demand in Memphis TN.

Cody Ray Slaughter, the talented actor and singing sensation, has the raw talent and passion that Elvis himself exhibited when he first started. Excited fans have crowned Cody the new 'Prince of Rock and Roll'.

Handicap accessible seating is limited. For wheelchair seating accommodations please call the box office at 270-234-8258 before purchasing tickets.

All ticket sales are final. No refunds or exchanges. Ticket insurance is available for purchase at time of checkout.