James Gregory - Funniest Man in America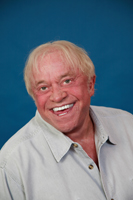 James Gregory creates an evening of non-stop laughter with his down home sensibilities and inclusive Southern accent. He is a master storyteller and world-class comedian.
This is an indoor event. Masks are currently mandated in the state of Kentucky unless eating or drinking. By purchasing your ticket, you understand and accept the risks of attending this event. Neither The State Theater nor the City of Elizabethtown are responsible for your health and safety. Do not attend this event if you feel unsafe or uncomfortable.